Hello, I am Jonathan Kennedy, Jr. I am a third generation financial services provider in Richmond, VA. My grandfather, Irv, started in the financial services field over 70 years ago. Not long after, my father, Jon, joined him in the field. In 2002 I became the third generation of Kennedy's working with the businesses and families of Richmond.
In May 2002, I graduated from Virginia Polytechnic Institute and State University with a degree in Housing, Interior Design, and Resource Management with a concentration in Family Financial Management, This program is a Certified Financial Planner (CFP) Board of Standards Registered Curriculum. Virginia Tech does not award the CFP and Certified Financial Planner designation.
In September of 2005 I earned the designation of Certified in Long Term Care (CLTC) and I'm a multi-year qualifier for the Million Dollar Round Table. Additionally we have been awarded Best of Awards by Style Weekly and Virginia Living Magazines over the years.
In March of 2009, Endeavor Capital, LLC was founded. We are heading into our 13th year and fully expect 2022 to be our strongest yet.
We are so pleased to have been able to impact the lives of those in and around Richmond for the past 18 yrs and 11 as Endeavor Capital. The reason I started Endeavor is simple: to provide you Leadership For Your Journey tm. We are Your Guide to creating, maintaining, fulfilling and passing on Multi-Generational Wealth. We utilize our Homemade Financial Planning process to guide you to prudent decisions impacting you not only for today but for generations to come. We are your source for achieving your goals, objectives and dreams.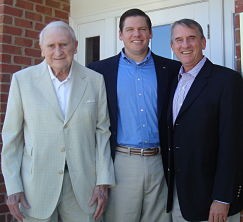 What do I do for fun? Spend time with my wife and kids; our family is working towards visiting all 50 states; Inspire others to live their best lives in all areas; investing in relationships with business and community members; investing in men and empowering us to being who we were created to be; being outdoors: hiking, biking, hunting, fishing, camping, etc you name it...
What are my Dreams? To Inspire you to express your dreams and desires and to have them become a reality by utilizing the resources you have to access. I like to teach people to think about ways to create mulit-generational impact. That my kids may be the best version of themselves daily. That I can support my wife and kids so their impact and ripples long out live me.