Hello, I am Jonathan Kennedy, Jr. I am a third generation financial services provider in Richmond, VA. My grandfather, Irv, started in the financial services field over 60 years ago. Not long after, my father, Jon, joined him in the field. In 2002 I became the third generation of Kennedy's working with the businesses and families of Richmond.
In May 2002, I graduated from Virginia Polytechnic Institute and State University with a degree in Housing, Interior Design, and Resource Management with a concentration in Family Financial Management, This program is a Certified Financial Planner (CFP) Board of Standards Registered Curriculum. Virginia Tech does not award the CFP and Certified Financial Planner designation In September of 2005 I earned the designation of Certified in Long Term Care (CLTC) and I'm a multi-year qualifier for the Million Dollar Round Table.

In March of 2009 I started Endeavor Capital LLC to provide a different way in the financial services field. My goal is to change the way we do financial planning. The objective is to make financial planning a very intentional and deliberate event with a beginning and end. When we are finished the leadership Endeavor Capital offers is designed to provide our clients the ability to make sound decisions and be empowered to take control of their financial well-being.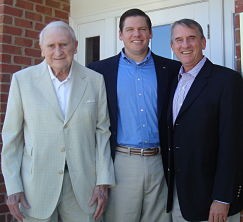 As an advocate for my clients, friends and family I remain active in many community based organizations. I am very excited about my role as chairman of the Board with First things First. Endeavor Capital is a member of the VCU Family Business Forum and a Sponsors of the Virginia Council of CEO's.
We are members of Trinity United Methodist Church, where we actively participate in many ongoing programs. Along side my wife, Katie, we have volunteered at Comfort Zone Camp, the largest bereavement camp for children in the United States. I am also a supporter of MK4 Fundraising and ASK Childhood Cancer Foundation.
My hobbies are many and include, spending time with family, volunteering on service projects, working out at the YMCA and hiking. Most notably you will find me in the woods or by a body of water hunting and fishing as often as possible.